AO Rosnefteflot, a subsidiary of Rosneft, and Zvezda shipyard signed a contract during the St. Petersburg International Economic Forum for the construction of a shuttle tanker Arc6 with a deadweight of 69,000 tons. The contract provides for an option to build a second similar vessel. At the same time, a 20-year charter agreement was signed between Rosneft and Rosnefteflot.
The tanker will be used for safe export of oil and petroleum products from Trebsa and Titova fields.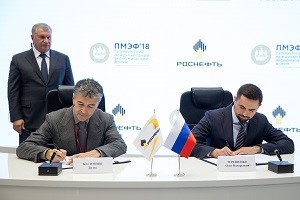 Arc6 ice class tankers are designed for operations where ice thickness is up to 1.5 m and ambient temperature is down to -45 degrees Co. The maximum length of the tanker is 257 meters, its width is 34 meters, draft is 14 meters, height is 21 meters, speed is 15.5 knots.
The vessel will be built under the supervision of the Russian Maritime Register and will be operated under the flag of the Russian Federation.
The contract was signed in pursuance of the agreement concluded with Zvezda in September 2017 related to the construction of tanker shuttles of the advanced ice class (Arc6-Arc7). Total order of Rosneft placed with Zvezda is 26 vessels, including 12 tankers of ice class Arc6 and Arc7.
The project will support the development of the shipbuilding and industrial cluster and localization of vessel equipment production in the Far East of Russia, it will ensure the designing of shuttle tankers in the Russian Federation and the development of an optimum stock of orders to utilize the capacities of Zvezda shipbuilding complex as well as the development of the Company's maritime logistics infrastructure.
For reference:
Zvezda Shipyard is being set up in Bolshoy Kamen, Primorsky Region. The shipbuilding complex design provides for the construction of a heavy outfitting berth, a dry dock, full-cycle production shops, and shops for the construction of offshore marine facilities. Zvezda Shipyard will produce heavy tonnage ships, offshore platform elements, ice-class vessels, special vessels and other marine equipment. Earlier, Rosneft has placed an order for the construction of ten Aframax tankers at Zvezda Shipyard.
AO Rosnefteflot – is a dedicated 100% Subsidiary of Rosneft that implements marine logistics projects; it works on behalf of Rosneft to ensure marine charters, port-based services, implementation of ship building projects and management of the marine and inland fleet.